Marketing is tough in today's day and age, even when you don't throw in the different generational audiences to the mix. There is a tremendous amount of effort going into understanding the Millennial generation and what makes them tick. And with good reason – they have overtaken the Baby Boomer generation in sheer number of members of that demographic. BUT, does that mean you abandon the Baby Boomers and trying to reach them as well as the other generations, like Gen X and Gen Z? Maybe "abandon" is too strong a word to use, but are you paying proper attention to reaching Baby Boomers or retaining them as current customers? After all, the paying power of boomers is still the strongest of the generations and Americans 55 and older make up for a major portion of spending. Add 53 and 54 year olds, and these numbers get even higher.
Keep in mind that different audiences require different messaging. Boomers are not digital natives, like the Gen Z population. But they are heavily on social media and Facebook is a favorite. Whereas Millennials are big fans of Instagram. They both trust user-generated contact over brand generated advertising. They both like images, which we know images produce far more views of content than written content alone. Baby boomers use computers and are online for a large portion of the day and particularly during their decision-making research. You do not have to be afraid of digital content, whether it's social media, video, written content, or other digital content. The point is however, they do want to learn, and they want to do that via the exceptional content you can provide.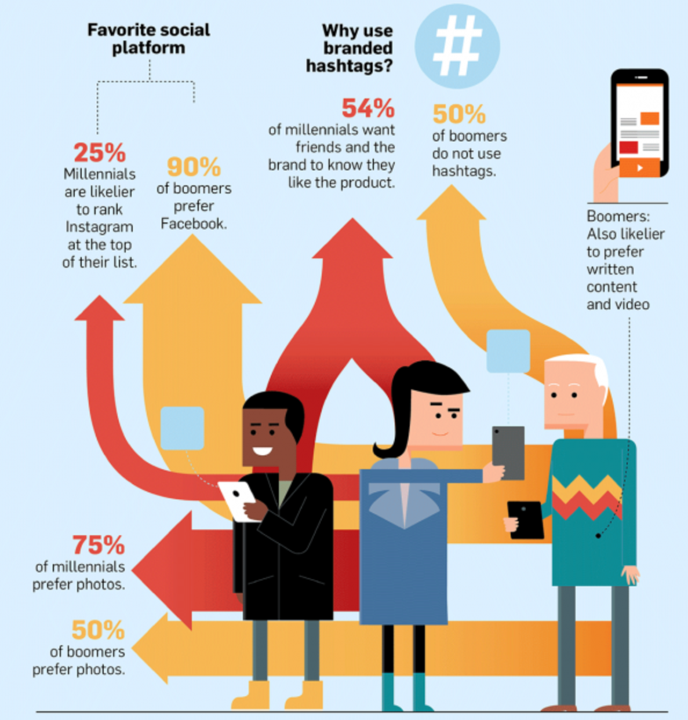 Social media is not the only place to reach your audiences. The younger generations are not the TV generation and are watching less and less of it. But they are viewing shows through streaming services. Many do not own a TV. Growing up, did you ever dream of not owning a TV? (Never in a million years!) Baby Boomers also use streaming services but do own TVs and do sit down and watch TV.
Where to reach audiences is only one part of the puzzle. Who has the disposable income is another part of the puzzle. There are many reasons that the boomer demographic is fastest-growing segment of consumers. A couple of the reasons are:
The number of Baby Boomers alive and well is still a tremendously high number – 90.7 million Americans 55 and older last year made up 28% of the population. This is up 30 million people and 7% since 2000.
People are working longer due to the advent of more white-collar jobs which are less physically demanding. 38.7% of all 55-and-older Americans are employed, up from 30% in 1997.
Many Baby Boomers were lucky to start their careers during healthy economic times. They were able to secure good first jobs and progress their careers. The younger generations today are facing tougher employment opportunities.
People are living longer and staying active longer – a sign of the times and technology.
The last piece of the puzzle is where the consumers of each generation are spending their disposable income. Here is what Baby Boomers are purchasing:
Healthcare – Spending has increased 2.8% since 1997.
Travel – Spending has increased 0.9% since 1997.
Entertainment – Spending accounts for 57% of credit spending at hotels last year.
I will leave you with these numbers – Boomers generate more than 51% of the spending in the United States, which according to AARP represents a total annual economic activity of roughly $7.6 trillion.
Do not ignore any generation demographic but take a good hard look at who has the money to spend and figure out how to reach them.
Enjoy some articles related to our topic:
Infographic: How Millennials and Baby Boomers Consume User-Generated Content
Gen Z Media Consumption: It's A Lifestyle, Not Just Entertainment
Surprising Stats on Every Generation's Social Media Habits (Infographic)
It's Your Media Generation That Defines You
How Generation Z, Millennials (and the rest of us) consume media: 7 key trends
The economy is still all about — who else? — Boomers
Appealing To The Affluent Older Consumer: A Retail Guide
Please contact Anna Brice at Pinnacle Peak Marketing, Scottsdale AZ about Marketing for Small/Medium Business.
Email: [email protected]
Phone: 480-661-0292
Website: https://pinnaclepeakmarketing.com