What better way to start a Monday than with a roundup of interesting articles we came across last week. This roundup talks about writing, trends in social media, responding to a crisis properly, the importance of visuals, and skills you need for a social media job. Marketing is ever-changing on what feels like a daily basis. Trying to keep up and utilize all the tools we now have available to us today is key to success. Enjoy!
#1:
Starting off with some inspiration. In case you have a fear of writing. Just do it. And keep doing it. It may not be a fear of writing. Often it's trying to find the time. Sometimes, it's being consistent with when you write. Other times it may be writer's block.
#2:
How can you get the most out of your social media marketing initiatives? When you do figure out how to get your social working well in conjunction with all of your marketing activities, it is a great way to improve and grow your business.
5 Trends That Will Shape Social Media in 2018
#3:
In business, there is no way to predict how you may have to defend your brand, re-explain your brand or even educate the audience about your brand. This was an interesting, timely article about smart PR and responding quickly and properly to a crisis with your brand and business. Do you think that Crock Pot and even Tide Pods would ever have to be prepared for these scenarios?
Crock-Pot's Response to Its Tragic Role in 'This Is Us' Is a Lesson in Smart PR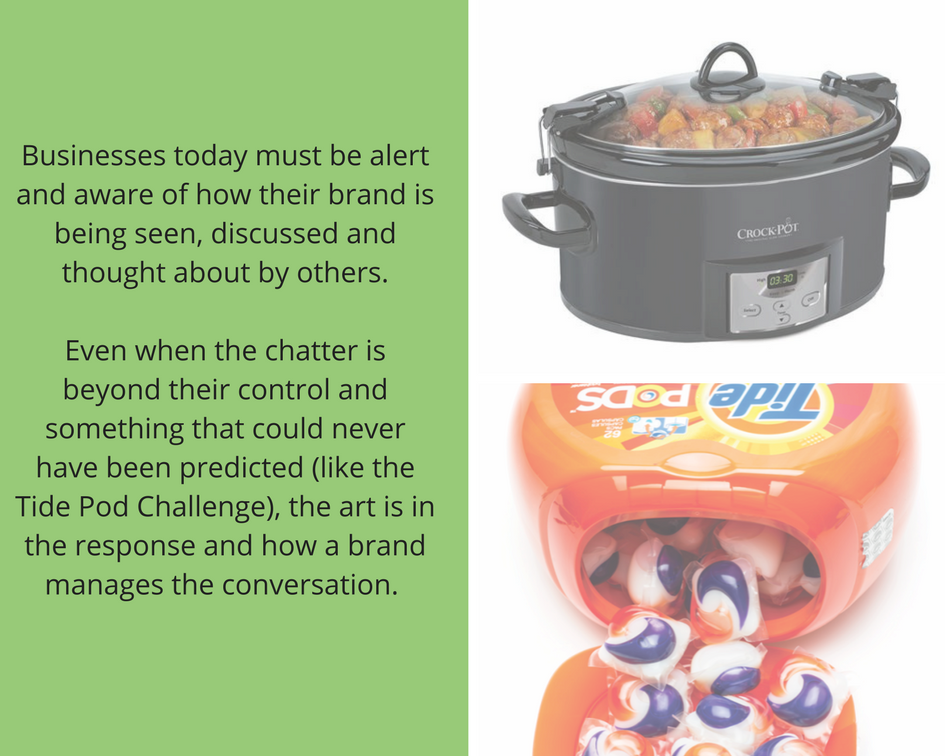 #4:
Because visuals are so important when you are online, I love lists like this. They provide tools (often free) for businesses that don't have unlimited resources and budgets. Trying to make an impression, and get people to take a look at your company is not easy. When working to do this, we need to make it memorable. Visuals are a great way to make it memorable.
21 Awesome and Free Stock Photo Sites for Social Media Images
#5:
So often, social media as a job to do, is grossly underestimated. Non-marketers may think social media marketing is as simple as clicking a button. How many articles have you seen titled "Social Media in 20 Minutes or Less"? How many times have you heard a business owner, who doesn't understand social media, say "let's give it to the summer intern"? This is an interesting article about the skills you have and develop when social media is your job. But more interesting is that this shows it's a marketing initiative that you should take seriously (and not simply hand over to the summer intern).
10 Underappreciated Skills for Social Media Professionals
As always, if you have any questions about marketing, feel free to reach out to me. I would love to hear from you!
Please contact Anna Brice at Pinnacle Peak Marketing, Scottsdale AZ about Marketing for Small/Medium Business.
Email: [email protected]
Phone: 480-661-0292
Website: https://pinnaclepeakmarketing.com