I came across this article on LinkedIn (I think) and it got me thinking about business in general and not just about the travel industry. Seeing these numbers and the high percentages of social media usage and technology usage generally, I thought about how this really is relatable to many industries and businesses.
The article talks about people using social media when planning their trip, for inspiration (52%) and posting about their upcoming trips (59%). It also talks about the use of social media by people while on their trip (74%) and the rise in usage of mobile devices when checking on their flight (50%, up from 30% a year ago). Then there are the hotel reviews posted (46%), sharing of attractions reviews (40%), writing restaurant reviews (40%) and posting vacation photos (76%).
Article: http://www.ragan.com/Main/Articles/45376.aspx
Infographic: http://www.mdgadvertising.com/blog/vacationing-the-social-media-way-infographic/
I am struck by how different trip planning, research, restaurant, activities and even making the reservations are today from what now seems like a long, long time ago. Does anyone remember AAA Trip Tiks? You would go to AAA and get this great packet of info—maps, directions, brochures for attractions, hotels—everything you could think of needing for your trip. They would even take a yellow highlighter and map out your car route on the map. I am happy to see that AAA still has Trip Tiks but it looks like an online version is available as well as e-book Tour Guides. That is great to see and exactly my point about adjusting the way you do things to fit the way people are researching, communicating and just doing everyday things in general.
Now this doesn't mean that traditional methods of marketing your product is not relevant but finding the perfect mix of the traditional and the new is really vital in business today. We, marketers, have been stressing this to our clients (and bosses in a traditional corporate business) for a while now. I have seen a bit of reluctance to embrace some of the new while, at the same time, I have seen a declaration of the death of certain traditional methods. Neither is exactly good or true.
With today's technology, people are armed with research when they do make a purchase. It's easy to look up a review while in the store and see what other consumers are saying, or even read an expert review.  Couple that with in-store marketing, and there is a wealth of information available to the consumer. When I was doing the research to buy a good camera for my husband, I knew nothing about them and was easily able to print out pages and pages of my research. Between the availability of specific brand information (in this case, from Canon and Nikon), consumer reviews, expert technology reviews, spec sheets and brochures, I was able to make what I would say, the best decision on the best product for our needs.
Some things to think about when you are preparing your marketing plan for today's customer:
Do you have a website?

Do you have a website that gives good information without a customer or potential customer having to talk to you to get some basic, helpful information?

Is your website mobile ready?

Do you have a print version and an electronic version of a brochure?

Where is the electronic version of your brochure available to customers and potential customers?

Are you communicating with customers and potential customers via social media?

Are you communicating with customers and potential customers through email?

Are you blogging?

Do you have a Google Places listing for your business?

Do you have great photos of your product?

Do you have testimonials from satisfied customers?

Are you using video?

Should you consider an app for your business?

Do you have an understanding of the various generations that make up your target audience and how they like to do things—how do they like to do their research and how do they like to purchase?
I think we are at the point where gone are the days that "we still have a couple of years before we have to worry about that" when it comes to things like social media, blogging and the various forms of electronic communications. I love the fact that AAA has adjusted their model. I also love the fact that I was able to make the right and best decision when it came to buying a good camera without having to speak to a salesperson.
I really think, as marketers, it's our job to make that happen and put the decision-making power into the customers' hands and perhaps, they choose your product. With all that's available in technology today, it's getting easier and easier to do. On your part—it just takes time, effort, good planning and learning all the great technology that is available to you.
Take advantage of these great technological times!
This photo shows how Canon has given the customer and potential customer ever possible bit of information that they would need, including a video tour of the product and a 'share with your friends' feature. They make it easy to buy from them.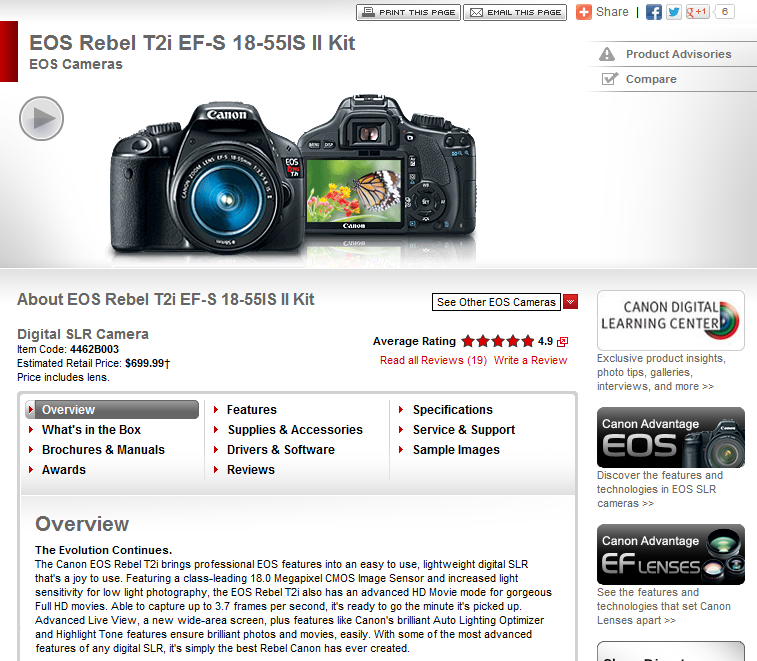 Thanks for reading!
Please contact Anna Brice at Pinnacle Peak Marketing, Scottsdale AZ about Marketing for Small/Medium Business.
Email: [email protected]
Phone: 480-661-0292
Website: https://pinnaclepeakmarketing.com