I am not making a New Year's resolution. They are too easy to break. I am taking the attitude—Just do…Don't "resolve" to do.
Customer Service is so vitally important to your business and GREAT customer service is at the top of my list for 2011. I am still constantly surprised at how companies regard this part of their business as a low priority. When I say this, I don't think top executives sit around a conference room table and purposely set the goal of customer service as a low priority. I just think that they don't give great customer service a thought at all. And I don't understand why.
I have benefitted from a large amount of repeat business as a result of great customer service (and a great product) in our small vacation rental business. I am so pleased that we have so many repeat clients. Looking at my next 4 renters, 3 of them are each returning for the third time with us. I have another renter returning for the second time. It's so great to have them all back. I can honestly say the things I do are very small things but our renters really appreciate it. When I call to check in on them upon their arrival, they are always so surprised that we took the time to call. That makes me smile.
The 3 advantages I see from my repeat clients:
I am filling my rental time with renters I already know are good customers.
There is no extra marketing effort on my part to get them to come back—they keep my contact information and call me.
They tell other people about us.
Small acts of great customer service go a long, long way. At least they do with me…I go out of my way to purchase products or services from companies that have been good to me. I have also gone out of my way to NOT do business with those companies who have been rotten to me. And there are some companies that I still do business with, but only because I have no choice…the example is my cable company.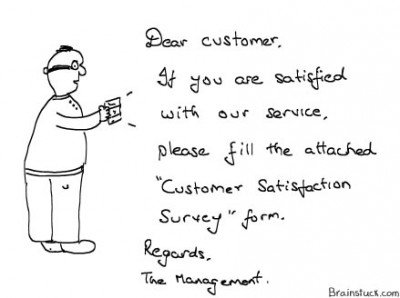 They sent out this customer satisfaction survey to me (a couple of times) with the statement that they care and they want feedback. When I give them my honest feedback with very low grades, I invite them to call me to discuss. They even end the survey saying something along the lines that they care and want to always improve but, to this day, I have never received a phone call from them to discuss my dissatisfaction.  So, I come away from this whole exercise feeling like they really don't care and that the survey is lip service to the customer in a pretend show of providing satisfactory customer service. I am always so disappointed and I would change companies immediately…if I had a choice.
The other day I had such a pleasant experience at Borders. I forgot my coupon and they accepted the email on my cell phone for the discount. I know this is probably not a big deal, but I will continue to go out of my way to purchase from them. The fact of the matter is—they made the choice to say yes to making their customers happy. They could have just as easily said "sorry, we need the physical coupon". And I walked out of the store with a smile on my face.
Great customer service takes effort. It takes planning. It takes training of employees. It takes thought. Is great customer service in your 2011 marketing plan?
The funny thing about great customer service is that is becomes so part of who your company is, what your brand stands for and who you are that it literally become a natural way for you to do business. I like happy clients. I never want to have an unhappy client. I wish other companies felt the same way.
Make it an important part of your 2011 marketing plan.